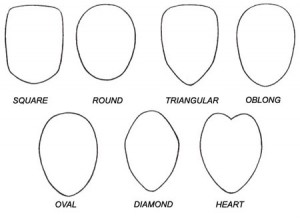 Square Shape Face: Angular, with similar width and height. Softer shapes, such as ovals work best with faces this shape.
Round: Round faces are about as wide as they are tall. Look for narrow geometric frames that make your face look longer.
Triangular Base-Up: This face shape is wider at the top that bottom. Try geometric frames and frames that are wider at the bottom.
Oblong: Angular, and taller than it is wide. Look for tall frames with soft shapes that will make the face appear shorter.

Oval: Well balanced proportion through the face. If you have this face shape you are in luck because just about any frame will
work out great!
Diamond: Narrow at the forehead and jaw with wide cheeks. Frames with a heavy brow line work best.
Heart: Your forehead is a prominent feature with a face line tapering towards your chin, creating a pointy chin. Try wide frames to had width to your cheeks.