A common question among parents of children with glasses is when is a good time for my child to start wearing contact lenses? Most people assume children should stay away from contact lenses until they are much older, but that is often not the case. In fact, depending on the child contact lenses can begin being worn at a very young age.
Each child is different so when it comes to deciding when to introduce contact lenses there is usually no specific age. Contact lenses are a daily responsibility to take care of,  so it's important to gauge how your child handles daily responsibilities, such as personal hygiene, keeping their room clean or getting their homework done. If they can't seem to handle responsibilities or constantly need reminders they may not be ready to wear or care for contact lenses.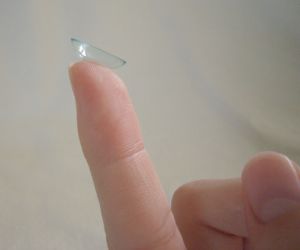 One way to ease your child into contact care are with the use of daily disposable lenses. These lenses can be thrown out at the end of the day and replaced with a fresh new pair in the morning. In fact, children at younger ages often handle contact lenses with more ease than adults who are not used to them. In a recent study that involved fitting nearsighted children of ages 8-11 with one-day disposable contact lenses, 90 percent of the kids had no trouble applying or removing the contacts without assistance from their parents.
If your child is active in sports contact lenses can be a great option for them. They offer a list of benefits for active children as opposed to glasses. Wearing glasses during sports runs the risk of breaking expensive frames and experiencing eye injury. Contacts also stay stable on the eyes which can help  improve vision while your child is running around.
Q Optical of Newbury Street in Boston, MA also provides online contact ordering services, as well as on-site eye examinations! So If you feel your child is ready to move from glasses to contacts, stop by Q Optical or call us at 617-424-9292 to order your contacts today!